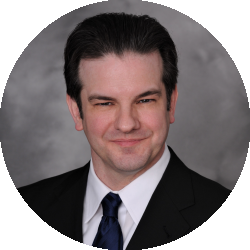 Latest posts by Randolph Taylor
(see all)
As the Chicago suburbs face record-high office vacancies, the future of suburban office is likely to hinge on the conversion of outdated buildings into modernized mixed-use spaces, CRE experts said during Bisnow's Future of the Chicago Suburbs event on March 21.
Powering Chicago's Elbert Walter III, Edwards Realty Co.'s Ramzi Hassan, EQT Exeter's Tammy Kelly, Tucker Development's Aaron Tucker, Opus Development Co.'s Paul Robertson and NAI Hiffman's Stephen Chrastka.
With suburban office vacancies averaging around 26% in Q4 — and as high as 33.2% in the northwest suburbs, according to NAI Hiffman — owners are facing the reality that many companies aren't returning to offices in sufficient numbers, leading them to consider different uses.
"A lot of communities haven't really embraced the need to reposition their offices to something else, so they're hanging on for that mythical office tenant that may be coming at some point in the future," Opus Development Senior Director of Development Paul Robertson said. "It's probably going to take them a couple of years to figure out that that's not going to happen. We need to do something else with it."
A new type of office space conversion is the "metroburb," a term used to describe Bell Works Chicagoland, which hosted the event, as a metropolitan destination in the suburbs that incorporates offices, residential, retail and dining into one community. Inspired by Somerset Development converted the 150-acre corporate campus for AT&T in Hoffman Estates into the self-contained Bell Works Chicagoland.
"We started developing the metroburb pre-pandemic because we saw a trend," Inspired by Somerset Development President Ralph Zucker said. "The pandemic accelerated the trend, and that trend is that people don't want to drive an hour into the city, give up two to two and a half hours of their life. It's about the level of retail. It's about the great bar. As those things are coming to the suburbs, there's less reason to schlep to the city."
Suburban office parks that are struggling with vacancies might need to rethink how their spaces are used and consider converting them into public-facing spaces like restaurants or bars, Zucker said.
"The challenging ones are the ones that are within an office park where there is only other similar uses, and I think they're going to have the hardest time," Wright Heerema principal Roger Heerema said. "I think ones that are maybe located on a fringe, I think maybe communities will be more open to the rezoning that's necessary to make them viable, but I think it's a tough question."
Office-to-residential conversions are another option developers are considering.
"We're looking at office buildings to convert from office to multifamily," Robertson said. "The challenge: The floor plates don't lay out very well, but there's just too much commodity office out there, and I think you will see some of that either get demolished or repurposed into other uses."
Wright Heerema Architects' Roger Heerema, Heritage-Crystal Clean's David Chameli, Inspired by Somerset Development's Ralph Zucker and 25N Coworking's Mara Hauser.
Indeed, some older office buildings that aren't well-suited for conversion might just need to come down as companies reduce their leased square footage in office buildings, Heerema said.
"As we're looking at a shrinking office need, I think most companies that are re-signing leases are signing for a smaller amount of square footage than what they're occupying currently, so I think some of these buildings are going to just not be viable as office buildings," Heerema said.
However, suburban office spaces are often sitting on valuable pieces of land, so Zucker encourages companies to consider redevelopment before tearing down.
"Don't wait for the bank to take it back," Zucker said. "Create value in your community by rezoning it on your own."
Despite challenges with office occupancy, suburban offices tend to offer more space for employees to spread out, which is particularly helpful as social distancing concerns persist.
"I think when you look at downtown offices, they tend to be, in some cases, more density than offices in the suburbs, where people are sitting sort of on top of each other more, but then also having to get to the office via public transportation," Heerema said.
The offices that thrive in the future will create social environments that compel people to leave their home offices, and the key to doing that is creating environments focused on "comfort, convenience, variety and community," Heerema said.
"I think the office market is discovering that the ultimate amenity, it's not the gym," Zucker said. "It's not the cafe. It's life. It's people. We're social animals."
Source: Mixed-Use Conversions May Be The Future Of Chicago's Suburban Office